The Roman-Catholic Ecclesiastical Collection in Sárospatak
- Sárospatak
Address:

3950, Sárospatak Szent Erzsébet utca 13.

Phone number:

(47) 314-107

Opening hours:

Tue-Sat 10-18
The operation of the Ecclesian (arts and history) collection in the Catholic rectory was permitted by the Ministry of Culture and Education in 1967. The institute pursued its activities as a museum, library and archive.
The collection itself consists of the relics of the local congrgation. As a result of a 20-year-long collection work this material was supplemented by the unused books, documents, gifts, purchases and lithurgical items of other rectories in Abaúj and Zemplén.

Permanent exhibitions
The Jesuit paters were settled in the town by the widow of György Rákóczi II, Zsófia Báthori. After the dissolution of the holy order in 1773 the church facilities, their library and a part of the archive was shifted into the ownership of the denomination. Iconographic rarities are the portraits of Ferenc Rákóczi II. and monk and first Bible translator László Báthori. In the library of the collection there are nearly 50 books of the Jesuit library and 17-18th century theological works.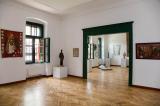 Elisabeth of Hungary is the most widely known Hungarian female saint. We celebrated the 800th anniversary of her birth in 2007. On the occasion, the town of her birth, Sárospatak, the Hungarian Catholic Church and several civil organizations saluted the saint with a large scale programme series.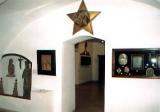 The well-being of Hegyalja, which can be put down to the grape-growing and wine producing, resulted in rich church enteriours in the 18th century. The 19-20th deterioration of the area and the changes of the taste had an unfavourable effect on the baroque inheritance. Thanks to the collecting work of Antal Kuklay, the museum today keeps a rich collection of the baroque ecclesiastic arts and liturgical life.

further exhibitions