The exhibition of Istvan Takacs
- Mezőkövesd
Address:

3400, Mezőkövesd Szent László tér 23.

Phone number:

(49) 500-024

Opening hours:

01-03, 11-12.: Tue-Sat 9-16

04-05, 09.: Tue-Sat 9-17

06-08.: Tue-Sun 10-17
The town is not only unique for its embroydery, but many famous artists of fine and applied arts, pottery and textile industry were born or lived here, too. The concept of the Town Gallery is to secure permanent exhibition opportunities to the artists that live here. Obviously we gladly exhibit the works of contemporary artists from other areas of the country as well.

Permanent exhibitions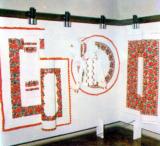 The "Matyó embroidery" became famous both in Hungary and abroad. It is used in a great variety of clothes, furniture items and other miscellaneous objects. The style is still being modified without losing its original character. The items here seen consist of a rich and versatile material, which was the jubilee donation of the Matyó Home Industial.

further exhibitions