Agricultural Machine Museum
- Mezőkövesd
Address:

3400, Mezőkövesd Eötvös u. 32.

Phone number:

(49) 312-820

Opening hours:

Tue-Sun 9-17
The foundations of the unique collection were laid by János Hajdu Ráfis and his wife Mária Bakos. The couple offered nearly 50 engines and 500 wrought-iron works on the one condition that they can be managing the museum to be formed.

Since 1979 the agricultural machine collection has turned into a museum. The number of machines and tools multiplied. Today there are about 2600 items exhibited on 2685 square metres. Among the items there are large cultural objects and rather old machines still capable of operation.

The Agricultural Machine Museum owns an unparalleled collection in Hungary. Its purpose is to exhibit machines, vehicles and tools that had been used in the Hungarian agriculture.
Among the main items of the collection there are 160 steam engines, 100 agricultural machines, 50 appliances and a number of spare parts and wrought-iron objects. At the exhibition scene there are various stables, a barn and other agricultural buildings that also represent the environment of the traditional Hungarian agriculture.
Permanent exhibitions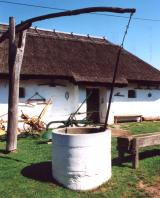 Hajdu Ráfis János and his wife, Bakos Mária, put down the base of the collection unique in Hungary. The couple from Mezőkövesd offered over fifty machines and five-hundred wrought iron work to Hungary on the condition that they would be the caretakers of the new museum.

further exhibitions