Matyó Museum
- Mezőkövesd
Address:

3400, Mezőkövesd Szent László tér 8.

Phone number:

(49) 311-824

Opening hours:

01.11-31.03.: Tue-Sun 9-15

01.04-31.10.: Tue-Sun 9-17
The main purpose of the Matyó Museum is to collect, file and exhibit popular items and clothing. It was founded on the first floor of the former Korona Restaurant and Hotel in 1952. The exhibition presenting the history of the Matyó traditional costume and embroydery was opened on 26th July 1953. The museum came under the management of the Museum of Borsod-Abaúj-Zemplén in 1962. It moved to its present place in 1964.

Main part of the collected material consists of embroyderies, costumes, crockery and furniture. Its permanent exhibition was formed in 1975, under the title of "Matyó life-Feasts and Weekdays", following the scenario of Márta Fügedi.

Permanent exhibitions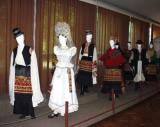 The year 2005 meant real reform for the Matyó Museum in Mezőkövesd. After over half a century's stay at the old building, the museum moved to the Matyó House in the town centre reconstructed recently. Those interested in the traditional way of life and culture of the Matyó will find a new permanent exhibition with a detailed showing of the changes that occurred in the Matyó folk clothing and embroidery.

further exhibitions