Mihály Tompa Memorial House
- Kelemér
Address:

3728, Kelemér Tompa Mihály út 61.

Phone number:

(30) 427-7567

Opening hours:

Temporarily closed.
In the main square of the village, which is the most attractive point of the settlement, there stands the medieval church in which the Hungarian preacher poet used to preach during the two years he spent in Kelemér. Beside the church building there is a museum where visitors canlearn about the most important stations of the poet's life.

Our great poet was born into a simple shoemaker's family in Rimaszombat. He studed 12 years at the college of Sárospatak.

During the revolution of 1848 the poet went to Gömör and became a camp preacher among the soldiers. In 1849 he moved to Kelemér and married Emilía Soldos. The years spent here left painful memories in the soul of the poet. The failure of the revolution was accompanied by the mourn of a father, as he lost his little son. That is when the poet wrote his famous poems entitled To the Stork and To the sons of the bird.

The longlasting sorrows and trials did not turn the preacher-poet away from his conviction, and as regards with the Hungarian literature he created one of the tipical forms of Hungarian poetry - allegory.

The museum was renovated in 1967. Visitors can have a look at manuscripts and studies written about him. By displayed books and photographs we can follow his life from birth to death.
Permanent exhibitions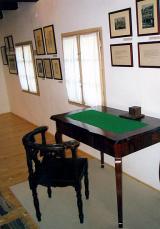 At the entrance hall of the exhibition the old Kelemér comes to life giving the atmosphere of the adequate era. The inner space gives account of the years Tompa spent in Kelemér and the works he created here. These are presented in three separate groups: events of his private life, his work as a priest, and his literal work. Tompa's desk and chair gives an intimate atmosphere to the exhibition. Tompa was faithful to Gömör, he prayed from the bottom of his heart and wrote his poems here. The work of the village priest does not pay well, still Tompa chose to live in the village.

further exhibitions