Mihály Tompa Memorial House
- Kelemér
Address:

3728, Kelemér Tompa Mihály út 61.

Phone number:

(30) 427-7567

Opening hours:

01.05-01.11.: Tue-Sun 10-18

02.11-30.04.: On prior notice
In the main square of the village, which is the most attractive point of the settlement, there stands the medieval church in which the Hungarian preacher poet used to preach during the two years he spent in Kelemér. Beside the church building there is a museum where visitors canlearn about the most important stations of the poet's life.

Permanent exhibitions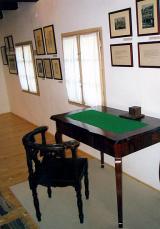 At the entrance hall of the exhibition the old Kelemér comes to life giving the atmosphere of the adequate era. The inner space gives account of the years Tompa spent in Kelemér and the works he created here. These are presented in three separate groups: events of his private life, his work as a priest, and his literal work. Tompa's desk and chair gives an intimate atmosphere to the exhibition. Tompa was faithful to Gömör, he prayed from the bottom of his heart and wrote his poems here. The work of the village priest does not pay well, still Tompa chose to live in the village.

further exhibitions