Huszita-House - Region Historical Collection
- Gönc
Address:

3895, Gönc Kossuth Lajos utca 85.

Phone number:

(46) 588-235

Opening hours:

15.04-15.10.: Tue-Sun 10-18

(Also at other times on prior notice)

The museum is closed during the holidays.
The 'Husite' or 'Checz' house name can be found not only in Gönc, but in the surrounding settlements as well. Research workers still dispute whether the popular tradition - the house had been inhabited by actual Husites - is true or not.

The fortlike house stands beside the high street which runs parallel with the stream of the village. The house is characterized by stone walls placed into limestone mortar, extended floor level, norrow window frames and pathways leading out from the cellar toward the end of the site and the neighboring cellars.

The monument went through a significant renovation in 1832 and gained its present shape after another renovation between 1975 and 1978.

The court of the Husite house and the farm buildings at the back bear traces of the settling after the 13th century. These typically long sites and the buildings situated in line one behind the other is the result of family divisions. Almost all of the buildings have cellars underneath them.
Permanent exhibitions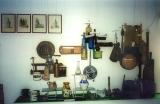 The material of the exhibition of local history is made up of tools, equipments collected in Gönc and surrounding area. The objects are from the end of the last century and the beginning of the turn of the century (19-20th century). The visitors may see old documents, certificates and a uniform besides the flag of the army of Gönc.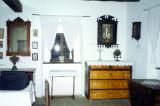 The furnishing of the Huszita-House displays the memories of the peasant-civic lifestyle of the market towns at the end of the 19th century. Beside the cultivators and the merchants, many tradesmen lived in the market towns. The signs of all three trades can be traced on the furniture and the displayed tools mainly made in Gönc.

further exhibitions