Country Museum of Borsod
- Edelény
Address:

3780, Edelény Borsodi út 155.

Phone number:

(48) 525-080, (30) 628-3007

Opening hours:

01.04- 31.10.: Tue-Sun 9-17
The museum building consists of houses and farm-buildings which are themselves the untouched representatives of the popular architecture tipical to the area. The buildings of the museum were bought by the town separately in 1987, 1997 and 2000. The so-called Szathmáry-Horkay house was built in the 1860'ies,and was renovated into its present shape in 1909.

Permanent exhibitions
The material located in the so-called "back house" was collected by the manager of the County Library Imre Slezsák (1932-2002) and Béla Augusztinyi.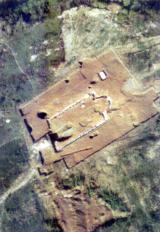 The historical Boesod county is one of those established by St. Stefan during the establishment of the state. The early counties were led by the bailiffs assigned by the king. Their work involved county administration,directing the judgment and tax collection duties, and the arrangement of the military operations. Their residence used to be at places such as the Borsod castle.

further exhibitions