Country Museum of Borsod
- Edel├ęny
Address:

3780, Edel├ęny Borsodi ├║t 155.

Phone number:

(48) 525-080, (30) 628-3007

Opening hours:

01.04- 31.10.: Tue-Sun 9-17
The museum building consists of houses and farm-buildings which are themselves the untouched representatives of the popular architecture tipical to the area. The buildings of the museum were bought by the town separately in 1987, 1997 and 2000. The so-called Szathmáry-Horkay house was built in the 1860'ies,and was renovated into its present shape in 1909.

Permanent exhibitions
The Kachelmann textile collection was donated to the museum in 1996 by R├│bert Kachelmann, who used to collect the shopped through decades hived the needleworks of hos relatives. He also purchased some of these works. This collection became the treasury of the needleworks of the past 200 years. Mainly civilian textiles, costumes, but a considerable amount of homespuns and and embroideries can also be found. The lace material is also an important part of the collection.

The family settled in Edel├ęny and produced bells, hooks and other tools for the herdsmen. The exhibition's mainly represents the works of father and his son - both masters of the Popular arts - Lajos Hodossy (1892-1979) and Gyula Hodossy (1926).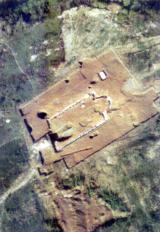 The historical Boesod county is one of those established by St. Stefan during the establishment of the state. The early counties were led by the bailiffs assigned by the king. Their work involved county administration,directing the judgment and tax collection duties, and the arrangement of the military operations. Their residence used to be at places such as the Borsod castle.

further exhibitions