Country Museum of Borsod
- Edel├ęny
Address:

3780, Edel├ęny Borsodi ├║t 155.

Phone number:

(48) 525-080, (30) 628-3007

Opening hours:

01.04- 31.10.: Tue-Sun 9-17
The museum building consists of houses and farm-buildings which are themselves the untouched representatives of the popular architecture tipical to the area. The buildings of the museum were bought by the town separately in 1987, 1997 and 2000. The so-called Szathmáry-Horkay house was built in the 1860'ies,and was renovated into its present shape in 1909.

Permanent exhibitions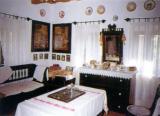 The exhibition is commemorated to the history and culture of the rural (and lower) noblemen: in the first house of the Horkay property some pieces of furniture strive to represent the duality between the popular and the civilian inhabitation.

The Kachelmann textile collection was donated to the museum in 1996 by R├│bert Kachelmann, who used to collect the shopped through decades hived the needleworks of hos relatives. He also purchased some of these works. This collection became the treasury of the needleworks of the past 200 years. Mainly civilian textiles, costumes, but a considerable amount of homespuns and and embroideries can also be found. The lace material is also an important part of the collection.

The material located in the so-called "back house" was collected by the manager of the County Library Imre Slezs├ík (1932-2002) and B├ęla Augusztinyi.

further exhibitions