Applied Art Museum of the Glassworks in Bükk
- Bükkszentkereszt
Address:

3557, Bükkszentkereszt Őz u. 2.

Phone number:

(46) 390-120

Opening hours:

Wed-Sun 11:30-15
Visitors can learn more about the raw materials of the glass, the melting oven, the glass-blower and other tools necessary to persue this profession. Rare pieces of he 19th and 20th century glasses are displayed.

Permanent exhibitions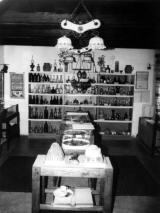 The first of the demonstrated settlements was established in 1712 by Czech, Slovak, Polish and German glass manufacturing families. The village was named Óhuta. (Celts had also been living here, and left behind plenty of archaelogical relics.) The name of the village ws altered in 1940 to Bükkszentlászló (the church was consecrated to St. László).

further exhibitions