Hungarian Museum for Science, Technology and Transport - Massa Museum
- Miskolc - Hámor
Address:

3517, Miskolc - Hámor Ómassai út

Phone number:

(46) 370-864

Opening hours:

15.04-15.10: Tue-Fri 9-17

16.10.2011- 15.04.2012.: closed
The Massa Museum established in 1963 is located in Miskolc-Újmassa, in the valley of the Creek Garadna, a few kilometres from the Metallurgy Museum. The institution is managed by the Metallurgy Museum. Its permanent exhibition presents the history of the Iron Works of Hámor (1770-1870) via original ocuments, tools and products.

Permanent exhibitions
Hungary's first industrial scheduled monument is located next to the Massa Museum. The building is the wood burning grand smelter, the so-called 'ancient furnace'. Its history goes back to the 18th century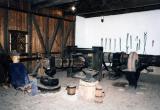 The reconstructed building of the water wheel iron works is next to the grand smelter. The iron works in Hámor was built in 1979 based on drawings from the 18th century. The contemporary so-called wolf-hammer and the glowing furnace recall the atmosphere of the past.

further exhibitions