Paper Industry Museum of the Diósgyőr Papermill Zrt.
- Miskolc
Address:

3535, Miskolc Hegyalja út 203/1.

Phone number:

(46) 530-824

Opening hours:

Mon - Fri 10-14
The Diósgyőr Papírgyár Co. (Paper factory) has been an important part of the industrial life of Miskolc and Hungary since the 17th century. In our country this is the only company that has been permanently working for the last 220 years now. Our paper industry collection was put together on the 200th anniversary of the founding of the factory.

Permanent exhibitions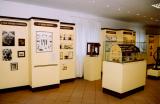 Ever since the 18th century, the Paper Factory of Diósgyőr was very important on the industrial scene of both Miskolc and Hungary. It is the only factory in Hungary that has been open for 220 years without a break. In 1872, Sámuel Martinyi founded the factory in the valley of Szinva, keeping in mind similar European factories.

further exhibitions