Gallery of Miskolc Museum of Contemporary Art
- Miskolc
Address:

3530, Miskolc Rákóczi utca 2.

Phone number:

(46) 500-680, (46) 500-681

Opening hours:

07.09-31.05.: Tue-Sat 9-17

01.06-06.09.: Tue-Sun 10-18

13.06-24.06.: Tue-Sun 10-23
The first upper house of Miskolc is the so-called Rákóczi-house, the former baroque mansion, where the Gallery of Miskolc was moved to in 1996. The exhibition hall of more than 300 square metres gives home to periodically held exhibitions, thematical exhibition series, and contemporary Hungarian and foreign artists.

Permanent exhibitions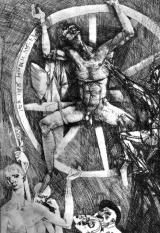 Kondor Béla would be 75 years old this year. 'The public thought of him as graphic artist and painter and hardly noticed his poems. They only thought of them as kind of coloring of his work as fine artist. (...) Of course the symbols in his poems and pictures are basically the same. There is a lot of similarity between his compositions.

The permanent exhibition endeavors to honor artists who worked and lived in Miskolc in the second half of the 20th century. Also recalling the events of the era, the organizers selected the works of the following artists:

further exhibitions