Hungarian Museum for Science, Technology and Transport - Museum of Metallurgy
- Miskolc - Hámor
Address:

3517, Miskolc - Hámor Palota u. 22.

Phone number:

(46) 379-375

Opening hours:

Tue-Wed on prior notice, Thu-Fri 10-16, Sat 10-16
The National Metallurgy Museum is operated by the National Polytechnic Museum Institution in the Szinva Valley in the Bükk Hills. The institution is located in an old industrial building with long history.

The objective of the museum is to introduce the past of metallurgy, to save objects and documents related to an industry that played such an important part in the development of human civilization.

The first permanent exhibition was held in 1960 in the quest house of the iron factory of Diósgyőr. Due to the enthusiastic collecting work, the building proved small soon so a new location has to be found for the showing. The new permanent exhibition opened in 1970 in an originally Baroque house in 1770 under the management of Fazola Henrik.

The museums were managed by the Massa Museum and the Metallurgy of Diósgyőr.

The material continuously grew ever since the beginning. The objects shown include scale model of tools, equipment, as well as folk and applied artworks. Documents include manuscript about the establishment of metallurgy in Hungary, research material and a number of polytechnic related documents.

We also show a photo collection mostly taken in Diósgyőr but also about other metallurgy companies in Hungary. Our archives hold records about events in the existence of the museum. The special and professional book collection of the museum is also significant.

Permanent exhibitions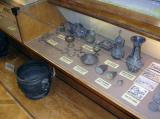 The permanent exhibition presents the development of iron metallurgy from the Antiquity until nowadays. The development of iron metallurgy is presented in four wards. Besides, the visitors may also learn of the history of the development of wire and screw production, as well as the examination of material in iron metallurgy.

further exhibitions