The History of Water Supply Museum Piece Exhibition Ward
- Orosháza
Address:

5900, Orosháza Tas utca eleje

Phone number:

(68) 417-707

Opening hours:

01.04-01.10.: permanently

On prior notice other times are avaliable as well
There was a beautiful water tower in the middle of the town, which was out of order. We asked for it to make a monument of the history of industry of it. After we were granted the tower, we decided on processing the history of wells in it and make it possible for the audience to visit it. Everybody collected something. I provided the furnishing of the museum. After we were done, we invited the leadership of the town. We were so successful that they offered support to expand the show right on that spot.

Permanent exhibitions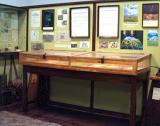 There are pageants, pictures, prepared birds and scene with a nerd catching a bird. The following is written underneath: "A ruthless law of nature: one of the animals have to perish so that the other stays alive."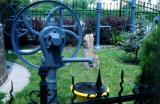 The unused aqua tower was an ideal solution for an exhibition of well history. The exhibition's success can be put down to the skillful 'erection of the circular shaped building. The wells are displayed in various groups, the history of which is demonstrated through photographs and documents (of shaddofs, wheeled wells, artesian wells, aqua towers, etc.). Small items are also placed among the tableous. The space above the tableous is covered by photographs and paintings.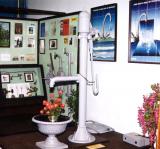 There is interesting information to learn at this well: first we may learn what the difference is between the sunken well and the wrought well. We may also learn that the sunken wells were called artificial wells for a long time and the water artificial water. However, the well of a village had a social significance. People could meet and have conversations at the wells, in some cases love formed between boy and girl.

further exhibitions