Szlovakian-Hungarian Region and Art House
- Kondoros
Address:

5553, Kondoros Ady Endre u. 12.

Phone number:

(66) 388-160

Opening hours:

Mon-Fri 7:30-12, 12:30-16
The building was built in 1926, owned by the Maczak family. Its present owner, the Faluszépítő Baráti Társaság (Village Improver Friendly Society) bought the building in its "modernized" form: its original state was restored by people of Kondoros, companies, societies, national firms, and the Minority Office of the Ministerial Institute.

Permanent exhibitions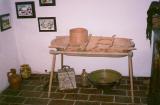 The interior of the rooms and the kitchen is made up by the peasant-civilian furniture used between the two world wars. They are placed according to the way Hungarian and Slovakian families used them at the time.

further exhibitions