The Management of the Körös-Maros National Park - The Visitor Center at Réhely
- Dévaványa
Address:

5510, Dévaványa Réhely

Phone number:

(66) 483-083, (30) 445-2409

Opening hours:

Temporarily closed.
The Management of the Körös-Maros National Park opened on the area of the Bleaks of Dévaványa-Ecseg and in Réhely on 6, June 1997. Starting from the Visitor Center, a study path shows the characteristic flora and fauna of the area.

Permanent exhibitions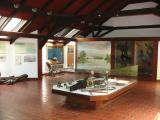 Nagy-Sárrét only preserved the grand marshlands in its name. The land was full of marshes even in the past century. Due to water regulation at the beginning of the 19th century, the land turned into a lick bleak.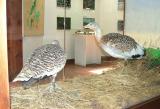 The bustards of the region protected by the Reservoir of Bustards founded in 1975 are of significant interest. The National Park mainly focuses of the open-air protection of the birds. The bustard raising plant is only open for the endangered birds. The eggs are placed in the incubator of the Bustard Plant but the young birds are returned to nature.

further exhibitions