Battonyan Exhibition Space: Memorial House of Painter Pál Molnár-C.
- Battonya
Address:

5830, Battonya Fő utca 123.

Opening hours:

On prior notice
Pál Molnár C. (1894-1981), the renowned freeman of Battonya, was a famous painter and graphic artist. His mother, Jeanne Contat came to Battonya from Switzerland to work as a French tutor in László László's famiily. She got married to the overseer of the farm. The child born to them was called Pál Molnár.

Permanent exhibitions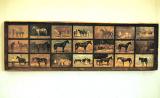 The Exhibition Hall of Battonya - or the Molnár-C. Pál Memorial House - protects 44 paintings and 22 graphics of the artist. We keep the art-works spanning through all styles and ages of the "painter of the saints, beautiful women and horse".

further exhibitions