Police History Museum
- Budapest
After a 4-month period of day and night work the museum was opened at a new place, in a new form, and under a new name: Police History Museum. The opening ceremony was accompanied by the speeches of dr. Zsolt Visy (Ministry of National Cultural Inheritage) and dr. Péter Orbán (National Police Headquarters).

Permanent exhibitions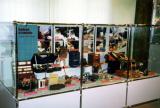 The History of Criminal Investigation Section presents the work of crime technicians, field investigators and forensic experts, the development of their equipment with the help of almost 500 pieces of people's evidence, 40 models and 300 photographs.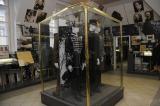 Visitors of our police history exhibition are guided through the development of the police in the halls of the museum furnished with over 1,000 relics, among them uniforms, weapons and firearms, documents, statuettes, decorations and documents dating from between 1848 and the present day.

further exhibitions