University of Pécs Collection
- Pécs
Address:

7621, Pécs Szepesy u. 1-3.

Phone number:

(72) 501-600

Opening hours:

01.01-31.03.: Mon-Fri 9-15

01.04-31.12.: Mon-Fri 9-15, Sat 9-13
It is indispensable that a university in a city boasting a higher educational past of 650 years should nurture the memory of its predecessors, hunt out its past and historical relics and then catalogue and exhibit them. On the 625th anniversary of Pécs's medieval university, and at the instigation of Gábor Kelényi, then rector of the Pécs Medical University, the country's first University History Museum was formed, primarily presenting the history of medical.

Permanent exhibitions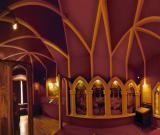 The first room evokes the Gothic atmosphere of Pécs's medieval university. Here the visitor can discover the conditions under which the local universitas was created as well as its branches of teaching. With the aid of the floor map of Pécs visitors can step into the medieval city and view the main public buildings. Life-size models bring to life the institute's chancellors, staff and students, through whom, and using texts from contemporary sources, we can learn something of the life of the old university's citizens.

further exhibitions