The Self-government of the Town of Komló József Attila Town Library and Museum Collection
- Komló
Address:

7300, Komló Városház tér 1.

Phone number:

(72) 481-071

Opening hours:

Temporarily closed.
In 1950 József Kutnyánszky became chief official of Mecsek Coalmines National Company. He was giving much assistance to Dr. András Babics who was at the time researching the history of coal mining in Komló. They used to talk much about the sed end of peasant life in the region. He was told for the first time to found a museum.

Permanent exhibitions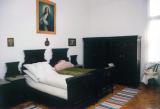 The exhibition, which was opened by Árpád Göncz Prime Minister, begins with a short review of the history of Komló. We learn how a village of 10 houses developed into a little incorporated town by 1947, and a town by 1951. The exhibition shows the history of the town from several points of views.

further exhibitions