National Széchényi Library Historic Cistercian Library
- Zirc
Address:

8420, Zirc Rákóczi tér 1.

Phone number:

(88) 593-800

Opening hours:

15.03-14.11: Tue-Sun 9-17, 15.11-14-03: Tue-Fri 10-16

A vezetések félóránként (minden óra negyedkor és háromnegyedkor) indulnak.
The historic library is found on the second floor of the Abbey building. The first books were brought here by the monks of Heinrichau in the 18th century when they came and founded again the Cistercian Abbey. The number of books swell to 65,000 volumes by 1950 when the State took possession of the library following the dispersal of the monks of the Cistercian Order. Fortunately, the National Library was allotted the task of its upkeep, and this task they have performed and are performing today, while the proprietary rights have reverted to the Cistercians.

Permanent exhibitions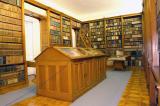 The monastic orders, thus the Cistercians as well, played an important role in the culture of books in Europe. In the 18th century the re-established monasteries needed liturgical books, others for spiritual reading, and they also required works in the fields of Church and secular science. Later when they became involved in teaching, they needed to acquire educational handbooks too. On the basis of the books exhibited here, our visitors can acquaint themselves of the activities of the Cistercian monks from the spiritual leadership through scientific work to education. They can also take a little look into the 15-20th century world of book culture.
The coloured group photos displayed in the passage provide information of the role that the Cistercian Order played in Europe in the middle ages.
An important stage in the history of this national monument library was the building of the barrel-vaulted, 15-metre interior height hall with coffer ceiling. Abbot Ferdinand Villax commissioned Mihály Wilde of Zirc to furnish the hall, and he, working with his brother József, finished the job by 1857. For this exceedingly demanding work they used wood obtained mainly from the forests of Bakony and created inlays and carvings that praise the technical ability and moderate taste of the master joiners. The furnishing of the hall includes a table, which opens out to form a stepladder. With its technical solution and making up it has provided a piece that is unique among the libraries of our country. Here one can find Hungary's oldest pair of globes, which were made in the workshops of the family Blaue (of the Netherlands) during the first half of the 17th century.
Nowadays the library fills a double function. It provides the needs of researchers by its stock of books, catalogues and the reading room. Secondly, it acts as a museum, giving visitors guided tours of one of Hungary's important cultural history memorials.

further exhibitions