The Museum of the Hungarian Language
- Sátoraljaújhely - Széphalom
Address:

3988, Sátoraljaújhely - Széphalom Kazinczy u. 275.

Phone number:

(47) 521-236

Opening hours:

Tue-Sun 9-17
The Museum of Hungarian Language opened on 23 April 2008 in Széphalom, on site where the orchard of Ferenc Kazinczy was once located. A modern building designed by the Ybl Prize awarded architect György Radványi perfectly suiting nature hosts the exhibition. The idea of the museum came from Dr. Emil Pásztor former linguist at the Training Collage in Eger, and member of the Kazinczy Society.

Permanent exhibitions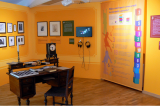 The Petőfi Literary Museum – Museum of the Hungarian Language opened the temporary exhibition on 27 March 2014. The exhibition is not based on static information, rather on museum pedagogical information, a role play during which visitors can gain interesting and fun information but may also become advertising boards of their own and their surroundings language use as well.

Part of the permanent exhibition, its backbone indeed, called The World of the Hungarian Word, can be seen already as from October 18, 2008. Several angles of approach to the vo-cabulary are treated: characteristic features of Hungarian words; the origin and history of words; the most beautiful Hungarian words; the achievements of the linguistic renewal; the variety of synonyms; words used by writers and poets; divergences in linguistic usage beyond the borders of Hungary; exciting slang expressions; the language of students... Some items of the exhibition are placed in "treasuries" where the visitor feels tempted to dive into them.

further exhibitions