Hoffer János Memorial House and Region Historical Exhibition
- Boldogasszonyfa
Address:

7937, Boldogasszonyfa Kossuth u. 24.

Phone number:

(73) 554-036

Opening hours:

Temporarily closed.
The memorial exhibition of the master of folk art János Hoffer of Boldogasszonyfa has been open since 1972. The material shown includes individual and traditional objects of the shepherd wood carver.

The showing open all year long is a favourite with school and various other groups.

The building was reconstructed in 2006 supported by the Cultural Heritage Ministry of Hungary. The same time, the János Hoffer Memorial Exhibition and the Local History Collection were added new artefacts.

We believe that it is important to preserve memories of the past for future generations and show these in the form of exhibitions. The Local History Collection presents memories of local folk culture.

Permanent exhibitions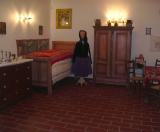 János Hoffer was born in 1890 in Losinca. He began working as a shepherd as a child.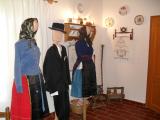 The exhibition was realized by the cooperation of the local community.

further exhibitions