Laser Point Image Museum
- Miskolc
Address:

3531, Miskolc Gy┼Ĺri kapu 57.

Phone number:

(46) 428-111, (46) 428-112

Opening hours:

Mon-Fri 9-18

Sat 9-14
The L├ęzerpont L├üTV├üNYT├üR (Image Museum) is a unique experience in the cultural tourism of Miskolc. The objects on display on the 600 m2 area are diverse and iconic; they allow visitors to travel back in time and history to different places.

Permanent exhibitions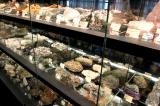 The unique minerals from the pits of underground thermal water mines tell stories that are millions of years old.


An exhibition of the costumes worn by the peoples and nationalities of the Carpathian Basin, where more than 300 original outfits are on display.

further exhibitions