Folk Art and Clothing Museum of Mid-Burgenland
- Lutzmannsburg
Address:

7361, Lutzmannsburg Hauptstraße 28

Phone number:

(664) 124-2526

Opening hours:

Temporarily closed.
Permanent exhibitions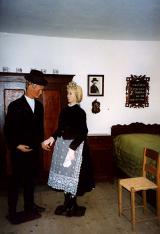 The speciality of the museum is the folk cloth collection. Due to the situation of the village (German habitat surrounded by Croatian and Hungarian villages), the folk cloths and traditions of the Pannon region have harmonized in a unique way. Folk cloths of all three nationalities are shown. The folk cloths collection for women is especially rich with embroidery, bonnets, and crochet ties.