Folk Art and Clothing Museum of Mid-Burgenland
- Lutzmannsburg
Address:

7361, Lutzmannsburg Hauptstraße 28

Phone number:

(664) 124-2526

Opening hours:

On prior notice
Locsmánd/Lutzmannsburg situated at the border of Burgenland-Hungary was among the first to obtain rights to holding fair in Burgenland. It is also a "Kékfrankos" wine producing area with considerable tradition. Since 1994, the village has transformed into a real spa village. The "Sonnentherme" the thermal bath, four and three star hotels and the ideal environment with bicycle roads, vineries, and wine cellars attract the visitors.

The reconstructed Village Museum was opened ceremoniously in August 2006, on the 850th anniversary of the existence of the village. The museum located in a nearly 100-year-old veranda house is the result of a private initiation. Weber Ernst, citizen of Locsmánd and hobby ethnographer began the collecting work. After his death, the arts group took on the task and preserved the invaluable collection. Due to their imitation, the house was reconstructed.

We hope the museum house will not simply function as a museum. So we provide opportunity to courses, camps where traditions of locals, basketwork, weaving etc can be learned, just like painting or mosaic making. Artists and participants arrive from the region. Local ceramic artists, art teachers, folk artists from Hungary, Zsira, Und and Újkér often take part at the camps, often for free.

Crossborder summer language and art camps where Hungarian and Austrian children can unfold their talent are considered traditional now. Exhibitions are organized selected from artworks made at the camps.

Since the museum house has a separate exhibition room, we welcome folk artists, hobby painters etc.

We also offer programs for tourists. Groups arriving by bus are welcome. For them guided tours in Hungarian and German are provided.

Permanent exhibitions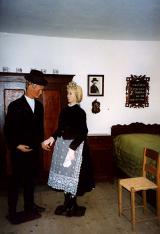 The speciality of the museum is the folk cloth collection. Due to the situation of the village (German habitat surrounded by Croatian and Hungarian villages), the folk cloths and traditions of the Pannon region have harmonized in a unique way. Folk cloths of all three nationalities are shown. The folk cloths collection for women is especially rich with embroidery, bonnets, and crochet ties.

further exhibitions