Folk Art and Clothing Museum of Mid-Burgenland
- Lutzmannsburg
Address:

7361, Lutzmannsburg Hauptstraße 28

Phone number:

(664) 124-2526

Opening hours:

On prior notice
The reconstructed Village Museum was opened ceremoniously in August 2006, on the 850th anniversary of the existence of the village. The museum located in a nearly 100-year-old veranda house is the result of a private initiation. Weber Ernst, citizen of Locsmánd and hobby ethnographer began the collecting work. After his death, the arts group took on the task and preserved the invaluable collection.

Permanent exhibitions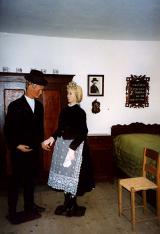 The speciality of the museum is the folk cloth collection. Due to the situation of the village (German habitat surrounded by Croatian and Hungarian villages), the folk cloths and traditions of the Pannon region have harmonized in a unique way. Folk cloths of all three nationalities are shown. The folk cloths collection for women is especially rich with embroidery, bonnets, and crochet ties.

further exhibitions