Borsos Miklós Memorial House
- Ciumani
Address:

537050, Ciumani str. Principala 1521

Phone number:

(740) 475-689
The Miklós Borsos Arts Found of Gyergyócsomafalva was established in 1992. Its objective is to tend and keep the art and spiritual heritage of Miklós Borsos alive. The Miklós Borsos Memorial House opened on 28 June 2002 hosts the Found.

Permanent exhibitions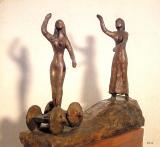 Miklós Borsos began his career as a painter but turned to sculpturing in 1932 while he also kept to drawing. His art comes from the inside, his private spiritual, emotional and intellectual needs. He was motivated by becoming an artist as a painter. At the beginning, he was principally attracted to forms and practiced engraving in his father's workshop. His drawing skill furthered his becoming a sculptor.

further exhibitions