Town Museum of Nagykároly
- Carei
Address:

445100, Carei Piaţa 25 Octombrie nr. 1

Phone number:

(261) 864-981

Opening hours:

Winter: Tue-Fri 9-17, Sat 10-14, Sun 9-17

Summer: Tue-Fri 10-18, Sat 10-14, Sun 10-18
In the area almost every museum's collections were based by school activities. This happened in Carei as well. Graff Alexander Károlyi settled a Piarist School in 1727-28 and its equipment store had serious geologic and natural collections with educational purpose. Today the museum's archeological, historical collection includes almost 30,000 articles, the natural collection has almost 25,000 objects.

Permanent exhibitions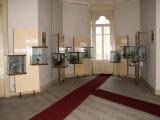 The Károlyi castle is the only museum in Satu Mare county which has a permanent nature exhibition, made of 25,000 pieces presenting the county's flora and fauna. There are six rooms with geological presentations presenting the county's geological formation, its fossils and the present day flora and fauna.

This archeological part of the museum is pre-eminent and appreciated in Romania and abroad. It is very important the exhibition of metal age (2800-1400 B.C.) and late iron age (350 B.C.-100 A.D.), which has been presented in Bucharest, Baia Mare, Cluj, Milan, Hochdorf.

further exhibitions