Baranya County Museum Authority - Csontváry Museum
- Pécs
Address:

7621, Pécs Janus Pannonius utca 11.

Phone number:

(72) 310-544

Opening hours:

Tue-Sun 10-18
The permanent exhibition of the works of Tivadar Csontváry Kosztka (1853-1919) have been on display in this neo-renaissance building since 1973. The solitary talent of the turn of this century artist, originally a pharmacist, is the most prominent representative of plen-air.

Permanent exhibitions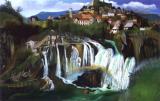 The Csontváry Museum is situated in the historic downtown of Pécs, half way between the mosque and the cathedral, right by the Christian necropolis. The exhibition of probably the most extravagant person in Hungarian painting, Tivadar Csontváry Kosztka, opened in 1973.
The oeuvre of Csontváry can be well distinguished chronologically and gender-wise. Csontváry's first artistic period is characterized by studies and portraits. The next period contains works of art by Csontváry from 1902 to 1903 in Jajca, Mostar, Castellamare, Selmecbánya, Szigetvár and Hortobágy. The largest plein art painting in the world named "Baalbek" is on show at the Csontváry museum. Another notable work, "Maria's Well in Nazareth" is the result of Csontváry's search of individual voice. The paintings "At the Entrance of the Wall of Laments in Jerusalem" and the "Great Tarpatak in the Tatra" reform the conventional approach to landscape painting.
These masterpieces are almost without exception ripe works, the most notable paintings by Csontváry. The "Lonely Cedar" often considered the self-portrait of Csontváry, is moreover a metaphoric summation of his oeuvre. The "Horse Ride by the Seaside" he painted in 1909 is the oldest of the works on display. The coal drawings and allegorical scenes, composition sketches characterise Csontváry's last artistic period.

further exhibitions