Sepsiszentgyörgy Art Gallery
- Sfîntu Gheorghe
Address:

520003, Sfîntu Gheorghe Szabadság-tér 2.

Phone number:

(267) 312-442

Opening hours:

Temporarily closed.
The Székely National Museum has had a fine art collection ever since its beginning in 1879, with a special section for professionals. A number of renowned artists added to the collection, the most significant of them being Jenő Gyárfás.

The graphic artist Nándor Lajos Varga and the painter Imre Nagy did excellent works as organiers for the collection. WWII brought horrible loss to the collection. During the evacuation of the works of art, almost all of them were destroyed in 1945.

In the 1960s, the collection acquired a number of great works of art. From 1948 to 1972 the painter János Mattis, from 1972 to 1974 the graphic artist Sándor Plugor, then until 1979 the painter Ervin Nagy, until 1981 the graphic artist Imre Baász, in the period from 1982 to 1990 the art historian Mihály Jánó, after 1990 until 2006 the sculptor Mihály Vargha took care of the collection. Professional work at the institute was taken over by the art historian Imre Géza Sántha in the summer of 2009.

The rich fine art collection moved to the old Bazár Building in Main Square in 1979. A complete reconstruction of the building hosting the collection began in 2008.


Permanent exhibitions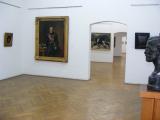 The Gyárfás Jenő Art Gallery of the Székely National Museum of Sepsiszentgyörgy presents the permanent exhibition entitled Pantheon. The exhibition mainly deals with Transylvanian work of art from the 19-20th century.

further exhibitions