Sepsiszentgyörgy Art Gallery
- Sfîntu Gheorghe
Address:

520003, Sfîntu Gheorghe Szabadság-tér 2.

Phone number:

(267) 312-442

Opening hours:

01.06-15.09.: Tue-Fri 10-18, Sat-Sun 10-16

16.09-31.05.: Tue-Fri 9-16, Sat-Sun 9-14
The Székely National Museum has had a fine art collection ever since its beginning in 1879, with a special section for professionals. A number of renowned artists added to the collection, the most significant of them being Jenő Gyárfás.

Permanent exhibitions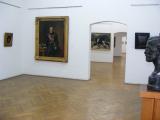 The Gyárfás Jenő Art Gallery of the Székely National Museum of Sepsiszentgyörgy presents the permanent exhibition entitled Pantheon. The exhibition mainly deals with Transylvanian work of art from the 19-20th century.

further exhibitions