Farming Museum of the Hungarian Agricultural Museum
- Lajosmizse - Bene
Address:

6050, Lajosmizse - Bene Bene tanya (Alsóbene 225)

Phone number:

(1) 363-1117, (30) 236-4013

Opening hours:

15.03-15.10.: Tue-Sun 10-16
The Homestead Museum in Lajosmizse is made up of two homesteads. The traditionally furnished museum opened on 30 June 1972. It was the first homestead museum in Hungary.

Permanent exhibitions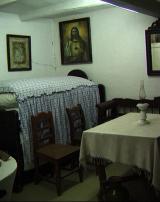 The furnishing of the dwelling house mirrors the lifestyle of the peasants of the homesteads of Lajosmizse at the turn of the century. The middle room of the house was the kitchen, which was made up of two parts: the porch, which also functioned as a hallway and the bottom of the chimney. Dishes of pottery hang on the walls of the porch. Under the chimney three inglenooks was placed: one to place tools on, the other was the 'nice inglenook', and the third was the heating inglenook with a pot. Behind the middle inglenook, a cavity in a semi circle is carved in the wall to keep the tools and equipments there.

The farm historical collection exterior and equipment - demonstrates the everyday life of the people traditionally cultivating the land of the Great Hungarian Plains at the turn of the century. The most important buildings of the farmed restored to its original state are as follows: two-room dwelling house, stable, shed, barns, cellar, porch.

further exhibitions