Gábor Csallány Exhibition Place
- Szentes
Address:

6600, Szentes Széchenyi liget 1

Phone number:

(30) 605-4680, (63) 313-352

Opening hours:

Temporarily closed.
The Széchenyi Park surrounded by the Kurca River is by Csongrádi Street. The largest park in town was created in 1860 to commemorate the count Stephen Széchenyi.

Permanent exhibitions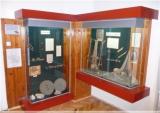 A speciality of the exhibition is that employees of the museum and students of archaeology at the University of Szeged display the material consisting of 7000-year-old arts and crafts together. There are Roman snail shaped wicks, perfume bottles and also a glass shoe, etc.

further exhibitions