Jankay Compilation and Kortárs Galleria
- Békéscsaba
Address:

5600, Békéscsaba Andrássy út 37/43.

Phone number:

(66) 524-656

Opening hours:

Tue-Sun 9-18
The Jankay Compilation and Contemporary Galleria opened in October 2003 in Békéscsaba on the 3rd floor of the Csaba Center. It functions as a museum since April 2006.

It was named after the fine artist Jankay Tibor who inherited his oeuvre and arts collection on the town of Békéscsaba.

The permanent exhibition reviews the Jankay heritage including the graphic art, ceramics and statues of the artist, as well as his collection of tribal objects. The material shown is regularly changed so that new artworks provide review of the art of Jankay.

Jankay owned a library of 800 books now held by the Library of Békés County.

The compilation was added new artworks in 2006. People related to Békéscsaba or the artist himself donated artworks Kolozsváry András, Kolozsváry Sándor, Kolozsváry Zsigmond, Kolozsváry Pál, Kolozsváry György, Kolozsváry-Stupler Éva, Tevan Margit and Engel Tevan István to the town. Later the material was organized into a permanent exhibition.

The permanent exhibitions with artworks artists who live n Békéscsaba or related to the town are held in the Contemporary exhibition ward. We also show travelling exhibitions and artworks made at the colony of artists.

The institution often holds cultural and art programs, too. Postcards, exhibition catalogues and art related publications can be purchased on location.

The Galleria is open every day at 9-18, the entrance is free.

Permanent exhibitions
Tibor Jankay's character drawing to spiritualism turned his Sun imagery into something unique during the years in the USA, due to which this is a more remarkable type of iconography and more in quantity in his art than at the most of his contemporaries.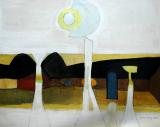 Both families gave a lot of artists to the histoty of arts. The three brothers, Sándor, Zsigmond and András lived in different places, so the impulses which affected them differed as well.

further exhibitions