Jankay Compilation and Kortárs Galleria
- Békéscsaba
Address:

5600, Békéscsaba Andrássy út 37/43.

Phone number:

(66) 524-656

Opening hours:

Tue-Sun 9-18
The Jankay Compilation and Contemporary Galleria opened in October 2003 in Békéscsaba on the 3rd floor of the Csaba Center. It functions as a museum since April 2006. It was named after the fine artist Jankay Tibor who inherited his oeuvre and arts collection on the town of Békéscsaba.

Permanent exhibitions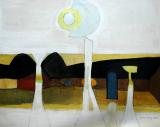 Both families gave a lot of artists to the histoty of arts. The three brothers, Sándor, Zsigmond and András lived in different places, so the impulses which affected them differed as well.

Tibor Jankay's character drawing to spiritualism turned his Sun imagery into something unique during the years in the USA, due to which this is a more remarkable type of iconography and more in quantity in his art than at the most of his contemporaries.

further exhibitions