Address:

1185, Budapest Budapest - Ferihegy 2.

Phone number:

(20) 617-4141

Opening hours:

13.03-15.10.: 9-18

16.10-30.11.: Mon-Sun 9-16
The Ferihegy Aircraft Museum opened in 1993. The equipments shown there are managed by the Museum of Transportation, the complete material is managed by the professionals of the Museum of Transportation.

Permanent exhibitions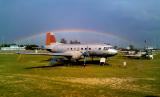 The IL-14 with the side number served the Russian Air Forces from 1957. From 1970 it served the PCs 226 Transport Company of the South Army Group. The last time it took off from the base airport in Kosice on 08 December 1897 and landed in Ferihegy, while the original military decoration was still on the plane. The airplane flied 5928 hours.
The airplane received as a present spent a lot of time aside until it was finally towed over to the Ferihegy Airplane Memorial Park in 1994. In consequence of a law banning emblems of despotism the red star had to be eliminated from the side, but the original paint is still on the bottom of the plane. Approximately 900 were manufactured of this type of airplane.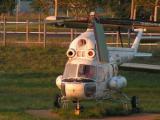 The helicopter joined rescue work for the National Ambulance Services on 12 January 1980. The last flight it took was for the Székesfehérvár Ambulance Services on 14 August 1994. During this period, the helicopter took off 7732 times and spent 2841 hours in air .
The ambulance services could not afford the compulsory overhaul, so the helicopter was cast off. On 27 April 1999 it was towed over to the Memorial Park. Helicopters of this type have been used for civilian and military purposes in Hungary. ltogether 6800 helicopters of this kind were manufactured.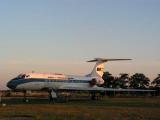 The airplane arrived in Ferihegy on 4 April 1969. It was the first of the fleet to retire. It took its last flight on 18 December 1987 from Budapest to Warsaw and back. The captain of the last flight was Jenő Durucz. Afterwards, the plane spent a lot of time in forefront of the garages before it was moved to the Memorial Park.
The plane flew 24167 hours and landed 19499 times. Civilian and military versions of the airplane, 725 Tu-134, A, B, L, S, A-3, B-3, LL, UB-L, UB-R, SzH were manufactured until the last one came out in 1985.

further exhibitions