Address:

1185, Budapest Budapest - Ferihegy 2.

Phone number:

(20) 617-4141

Opening hours:

13.03-15.10.: 9-18

16.10-30.11.: Mon-Sun 9-16
The Ferihegy Aircraft Museum opened in 1993. The equipments shown there are managed by the Museum of Transportation, the complete material is managed by the professionals of the Museum of Transportation.

Permanent exhibitions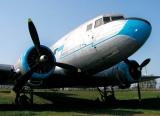 The Hungarian People's Army acquired the plane with the number 206 on 27 March 1952. On 20 March 1957 the plane was passed on to Malév, however, with the military painting intact. The plane flew as a freighter aircraft with Malév.
The ashes of the first president of the Republic of Hungary, Mihály Károlyi, were transported back to Hungary with this particular aircraft in 1963. On 20 May 1964 Malév returned the plane to the army, and the civilian aircraft registration was removed from it. Until then, the plane landed 5863 times and spent 3829 hours in air.
In 1974 the plane was cast off and the Museum of Transportation took it over. The plane was renovated in 1980, and then it was moved to Farkas Hill to the filming of the movie 'Vádindítvány'. From there, it was replaced to the Ferihegy Airport Memorial Park on 13 July 1993 where the plane has been on display ever since. 5306 of this type of aircraft, including military and civilian versions, were manufactured.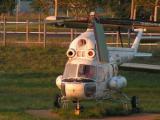 The helicopter joined rescue work for the National Ambulance Services on 12 January 1980. The last flight it took was for the Székesfehérvár Ambulance Services on 14 August 1994. During this period, the helicopter took off 7732 times and spent 2841 hours in air .
The ambulance services could not afford the compulsory overhaul, so the helicopter was cast off. On 27 April 1999 it was towed over to the Memorial Park. Helicopters of this type have been used for civilian and military purposes in Hungary. ltogether 6800 helicopters of this kind were manufactured.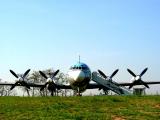 The airplane arrived in Ferihegy on 1 April 1960 with Malév paintings. After the plane passed the technological check up, it first flew to Moscow on 25 May 1960. At the beginning, some problem occurred with the AI-20 A serial power plant so the plane could not even fight half of the set time. The power plants were replaced by "K" serial power plants in 1964.

further exhibitions