Address:

1185, Budapest Budapest - Ferihegy 2.

Phone number:

(20) 617-4141

Opening hours:

13.03-15.10.: 9-18

16.10-30.11.: Mon-Sun 9-16
The Ferihegy Aircraft Museum opened in 1993. The equipments shown there are managed by the Museum of Transportation, the complete material is managed by the professionals of the Museum of Transportation.

Permanent exhibitions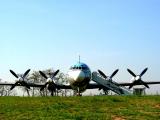 The airplane arrived in Ferihegy on 1 April 1960 with Mal├ęv paintings. After the plane passed the technological check up, it first flew to Moscow on 25 May 1960. At the beginning, some problem occurred with the AI-20 A serial power plant so the plane could not even fight half of the set time. The power plants were replaced by "K" serial power plants in 1964.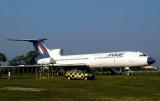 The plane arrived in Ferihegy, in Budapest on 24 November 1975 and was set to work right away. Since the B version arrived with an ICAO I standard, it was restructured during the first overhaul to be able to do ICAO II landings making it a type B-2 aircraft.
In January 1983 the business class on the plane was closed leaving the economy class with 143 seats. On 18 December 1991 due to a land event, the plane could not fly for some time.
The last time it flew to Heraklion on 31 July 1992. Afterwards, it stayed in the technological foreground for long. Owned by the Museum of Transportation, the plane was towed over to the Memorial Park on 24 September 1994. The plane spent 21554 hours in air, and landed 13803 times. Until 1993, 911 Tu-154 were manufactured. A few more of this type were however commissioned until 2000.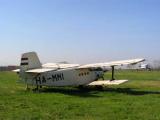 The airplane was taken over by the Hungarian Aircraft Service on 19 December 1967. It served Hungarian agricultural flying for nearly 26 years. After the plane was cast off, it was moved to the Memorial Park to be shown.
Circa 18.000 pieces of this type of airplanes were manufactured, several of them are still in operation across the world.

further exhibitions