Address:

1185, Budapest Budapest - Ferihegy 2.

Phone number:

(20) 617-4141

Opening hours:

13.03-15.10.: 9-18

16.10-30.11.: Mon-Sun 9-16
The Ferihegy Aircraft Museum opened in 1993. The equipments shown there are managed by the Museum of Transportation, the complete material is managed by the professionals of the Museum of Transportation.

Permanent exhibitions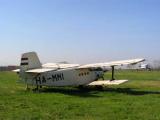 The airplane was taken over by the Hungarian Aircraft Service on 19 December 1967. It served Hungarian agricultural flying for nearly 26 years. After the plane was cast off, it was moved to the Memorial Park to be shown.
Circa 18.000 pieces of this type of airplanes were manufactured, several of them are still in operation across the world.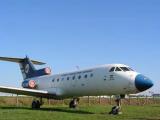 The plane arrived on 17 December 1975 on the order of the Air Traffic and Airport Directorate . In 1978 the complete S. TFIS 7701 air monitoring apparatus that fulfils the ICAO II category was installed. Later on it was expanded to category III and was used to check landing tracks, to calibrate ILS and other tasks. The first overhaul of the plane took place in 1980.
In 1987 the plane was repainted with the colours of Malév. The inscription 'Flight Inspection Service' was written under the windows. After changes at Malév in 1993, the plane was repainted to its present colours. It is still owned by the The aircraft successfully performed calibrations in neighbouring countries since the 1990s. The plane was kept in the technology forefront since the first part of the 1990s, but was moved to the Memorial Park in the spring of 2002. 1136 of this type of plane were manufactured until 1980.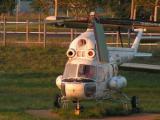 The helicopter joined rescue work for the National Ambulance Services on 12 January 1980. The last flight it took was for the Székesfehérvár Ambulance Services on 14 August 1994. During this period, the helicopter took off 7732 times and spent 2841 hours in air .
The ambulance services could not afford the compulsory overhaul, so the helicopter was cast off. On 27 April 1999 it was towed over to the Memorial Park. Helicopters of this type have been used for civilian and military purposes in Hungary. ltogether 6800 helicopters of this kind were manufactured.

further exhibitions