Rátkay Endre - Átlók Gallery
- Budapest
Address:

1201, Budapest Klapka utca 48.

Phone number:

(1) 284-7324, (1) 283-1779

Opening hours:

Tue-Sat 10-18
The Museum of Pesterzsébet opened its Rátkay-Átlók Gallery in Mach 2002 when the former movie now used for exhibitions was totally renovated. The ÁTLÓK ARTIST group operated in Pesterzsébet in 1960-64 with the painter members Czétényi Vilmos, Gaál Imre and Rátkay Endre.

Permanent exhibitions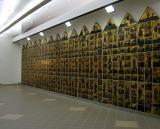 The golden iconostas of Endre Rátkay is a unique experience. The visitors are amazed by its size: it is three and a half meters in height, fifteen meters long, and painted on a long golden basis. The icon arrangement is made up of 415 picture frames. It is the summary, the synthesis of the universal Hungarian culture of Rátkay.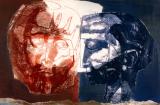 The OKM application we won in 2007 helped us buy 19 pictures for the Czétényi Collection of our museum. Thus, we could show artworks for the first time and that shed light on the oeuvre of the artist from a different angle.

further exhibitions