Address:

7149, Báta Óvoda u. 6.

Phone number:

(20) 576-4130

Opening hours:

A múzeum egész évben csak előzetes bejelentkezés alapján látogatható.
Permanent exhibitions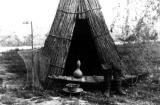 The people of the village where I was born were not satisfied with the fishing places around the village and went to fish to places like Rezét, Cserta, Sáros, the Dead Danube in Nyék around Baja. It was impossible to come and go the same day in a boat so the fishermen built temporary shacks. They visited their families every second week.

further exhibitions