Istvan Fekete Museum
- Dombóvár
Address:

7200, Dombóvár Hóvirág u. 25.

Phone number:

(74) 466-087, (20) 421-9307

Opening hours:

01.10-31.03.: Mon-Fri 15-17, Sat-Sun 10-16

01.04-30.09.: Mon-Fri 15-17, Sat-Sun 10-18

(Also at other times on prior notice)
The existence of the memorial room is due to conscious collecting work of five years. I kept every documents, newspaper extracts, photos, invitations, books in connection with the writer even before 1990. I corresponded with his widow, lady Edith for 18 years. Unfortunately, I never met Fekete István in person as he died in the summer I was to meet him.

Permanent exhibitions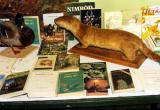 The books published in Hungary and abroad are placed on the shelves. Extracts from magazines are shown in the fifth showcase. Pieces of the fishing equipment of the writer are also displayed there. The works of Fekete István Jr. are also presented there. We can see the books: Shipwreck Generation, Battalion at the Don, Vuk and the Smooth Skinned.

further exhibitions