Address:

6300, Kalocsa Hunyadi János u. 2.

Phone number:

(78) 462-166 /210, (30) 575-0702

Opening hours:

01.04-31.10.: Tue-Sun 9-17

Also at other times on prior notice.
Permanent exhibitions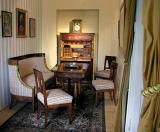 The first permanent exhibition of the Treasury of the Primacy opened on 19, August, 1988, on occasion of the 950th anniversary of the death of St. Stephen. The exhibition was opened by Dr. László Dankó, archbishop of Kalocsa by the following words: 'The 2nd Synod of the Vatican teaches the following in its disposal on Liturgy: Our good mother, the church has always been a patron of fine arts, especially, when it aimed at the objects of liturgy being ornamented, worthy.

Péter Prokop was born in Kalocsa in 1918; he was consecrated into priesthood 1942. He performed his task for three years after which he enrolled the Fine Art Academy. He was asked to return to his original profession by his archbishop in 1948 after the schools were nationalized and he could not finish his last semester at the Academy. He moved to Rome in 1957. He graduated as a painter from the Fine Art Academy of Rome where he became a complete artist. In 1999 he moved back to Hungary and lived and worked in Csepel until his death in 2003.