The Diocese Museum of Székesfehérvár
- Székesfehérvár
Address:

8000, Székesfehérvár Városház tér 4.

Phone number:

(22) 510-698, (22) 510-681

Opening hours:

Temporarily closed.
Permanent exhibitions
Contemporary documents and enlarged photos help us show the life of Ottokár Prohászka (1905-1927), the man who dedicated his life to serve people by doing a variation of social work, serve church and do scientific work.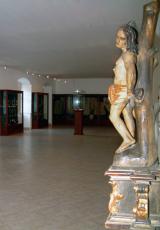 The material of the reorganized museum includes wonderful goldsmith objects from the cathedral and the Bishop's Palace besides paintings and statues with religious topic. Since the material of the episcopate and diocese are shown together, we cannot say that the showing is the result of planned collection.