Körös-Maros National Park Management - The Center for Visitors of Körösvölgy
- Szarvas
Address:

5540, Szarvas Anna-liget 1.

Phone number:

(66) 313-855, (30) 475-1789

Opening hours:

01.04-31.10.: Tue-Sun 9-17
The center of the Management of the Körös-Maros National Park is situated in the Csáky-Bolza Castle in the town of Szarvas in the Dead-Körös area. The headquarters is surrounded by 26 acres of park. The Anna Park is a unique green with exclusive values. Besides the natural beauty of the castle, the park also represents significant cultural values.

Permanent exhibitions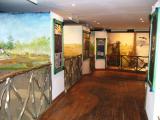 The exhibition presenting the natural values of the South Transdanubian area opens sets off in the so-called 'dark room' in the main building of the Visitor Center of Körösvölgy. The visitors enter into a room in complete darkness but with a starry sky over their head. After a few moments, a short film is being screened inviting the visitors to see the rest of the display. The next room holds dioramas and pageants about the geography and cultures living in the area beginning 3 million years ago.

further exhibitions