Post-horn Gallery
- Miskolc
Address:

3525, Miskolc Kazinczy Ferenc u. 16.

Phone number:

(20) 979-5487, (30) 814-0346

Opening hours:

On prior notice! (Tel.: 06-20/9795487)
With a permanent exhibition on the history of the post in Miskolc and its environment, Postakürt Galéria was opened in October 1998 at the fifth floor of the building in which the Miskolc Directorate of the Hungarian Post ("Magyar Posta Rt.") is operating. A history of more than 200 years of the postal service in Northern Hungary is presented by means of original documents, maps and objects, and also a post office of the beginning of this century can be inspected by our kind visitors.

Permanent exhibitions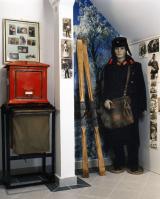 The exhibition ward of the Postakürt Gallery was created on the attic of the management of the Miskolc Branch of the Hungarian Post with the help of the Post Museum. The visitors can see the reproductions of the gobelins by Kapros Kósa Edit when entering. The gobelins show periods of Hungarian telecommunication. Documents and objects concerning the local post follow this part.

further exhibitions