Tanner House - House of Artisans
- Debrecen
The Tanner House - the House of Artisans - is the only industry historical building of Debrecen that has survived at its original site. A part of the building on the Tanner Street, as it was formally called, has been preserved and restored in its exact and faithful condition by the city of Debrecen, which has rich industrial history past.

The building hosts the remarkable permanent Tanner History Exhibition built from the kind and benevolent support and donations of the artisans and their offspring. The two other showrooms of the Tanner House display the various exhibitions of the Chamber of Commerce and Industry and other more extensive shows. The exhibitions cover a wide range of the traditional crafts of the region.

The adjacent newly built workshop centre give an insight to the diverse branches of the local hand in-craft activities, such as felting, embroidery, bead-threading, attire works, bone-lace making, pottery and blue-dyeing. The artisans who proceed with their trade in these buildings day-by-day will help the visitors to get familiar with the tricks and knacks of any craft they choose.

The children's programs and activities comprise an organic part of the large events and the seasonal holidays of the city. The Fun-Factory that is located inside the House of Artisans offers a playful access to the basics of the local crafts for primarily children all the year round, especially in the school-break in the summer (summer camps are available).

The visitors are welcome to visit the nearby Folk Art Shop that has a wide selection of traditional products (hand-) made individually by local artisans only from natural materials.
Permanent exhibitions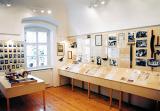 The town of Debrecen has a rich past concerning industry. The most successful of them were those who were involved in agriculture, the main interest of the people. The branches that specialized on the processing of the skin of leather were among the first ones since the raw material could be processed in a number of ways.

further exhibitions