Tanner House - House of Artisans
- Debrecen
The Tanner House - the House of Artisans - is the only industry historical building of Debrecen that has survived at its original site. A part of the building on the Tanner Street, as it was formally called, has been preserved and restored in its exact and faithful condition by the city of Debrecen, which has rich industrial history past.

Permanent exhibitions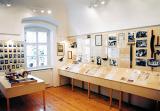 The town of Debrecen has a rich past concerning industry. The most successful of them were those who were involved in agriculture, the main interest of the people. The branches that specialized on the processing of the skin of leather were among the first ones since the raw material could be processed in a number of ways.

further exhibitions