Address:

6328, Dunapataj Ordasi utca 7.

Phone number:

(78) 425-972

Opening hours:

*Mon-Thu 10-12, 13-15:30

Also at other times on prior notice
The Museum of Pataj was established in 1959 by the history teacher Pastyik István who was the manager of the museum for the next 40 years. There were only a few objects in the collection at the beginning. Objects he collected were placed in one of the smaller rooms of the Primary School. However, a few month was enough and the room was too small for the collection. Then, the manager singled out a peasant house with a barn. The institution bought it and renovated it after which it opened in the summer of 1962. The first visitors were the composer Kodály and his entourage.

Permanent exhibitions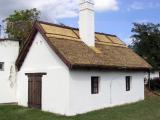 Besides the modern furnishing of the peasant house of Pataj, the visitors may get acquainted with the rich selection of the ethnographic collection of the museum at the permanent exhibition. We are to introduce the diversity and wealth of this collection.

further exhibitions