Bugac Shepherd Museum
- Bugac
Address:

6114, Bugac Nagybugac 135.

Phone number:

(76) 575-112

Opening hours:

01.05-31.10.: 10-17
Sunday, 21st May 1933. This was the day when the Kecskemét Town tourist Office planned its Bugac show for. During the program the local and foreign visitors expressed their amazement of the beautiful landscape. "The plains had an unspeakable success."

Here is one of the visitors' notes:
"We express the wonderful age of the old Bugac world with a blessing. Looking forward the new and glorious future of Hungary!
Zsigmond Móricz and daughter Virág"

A week later the famous journalist János Komáromi wrote an article praising the plains: "Bugac is worthy to be developed into a national park of Hungary."

However, more than 40 years had to pass by. Then, i, 1975 the Kiskunság National Park was established. The same year the Bugac Shepherd Museum was opened, which is still the most often visited unit of the national park. The traditional tools of Hungarian shepherd life were lent by the Kiskun Museum. The tree standing in the middle of the circular square was to signify the pasture area. Beside it there is the only wheelbarrow that remained. In the showcases we exhibited items made of wood, bones, leather and metal. Musical folk instruments are also exhibited. The enteriour recalls the atmosphere of shepherds' flats. In the dioramas we can see the flora and fauna of the Bugac plains. Looking through the museum window we can see the beautiful landscape of the plains, which provides the natural setting to the exhibited materials.
Permanent exhibitions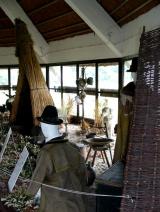 A map of the 17th-18th century indicates the spacious plains of Kecskemét, as well as the meadows used bz the Jász and Kun ethnlic groups. The tree standing in the middle of the museum / which is practically a proned tree branch was serving for the indication of the meadow boders. The wheel burrow beside the branch was used for storing and transporting the foods.

further exhibitions