Bugac Shepherd Museum
- Bugac
Address:

6114, Bugac Nagybugac 135.

Phone number:

(76) 575-112

Opening hours:

01.05-31.10.: 10-17
Looking through the museum window we can see the beautiful landscape of the plains, which provides the natural setting to the exhibited materials.

Permanent exhibitions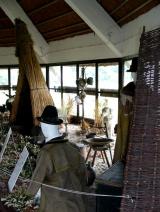 A map of the 17th-18th century indicates the spacious plains of Kecskemét, as well as the meadows used bz the Jász and Kun ethnlic groups. The tree standing in the middle of the museum / which is practically a proned tree branch was serving for the indication of the meadow boders. The wheel burrow beside the branch was used for storing and transporting the foods.

further exhibitions